1. What does the classification of customer requests mean for the business?
If you have a business built on relationships with a large number of customers, customer companies, partners, and even just visitors to your website, then you already know exactly what "Armageddon" is. This is when all the channels you use receive so many requests, service requests, complaints, or refund requests that your agents have not even had time to determine the topic of the next question but have already received dozens of new ones. The backlog is growing at an accelerated rate, you have already called all employees and even their relatives back from vacations. 😊

Costs are rising astronomically and yet you do not see an improvement in customer service. Christmas shopping, each season's shopping, hot new products - all this makes your service like a rollercoaster, going from sorting out one blockage to another.

How can you help yourself in this race and, at the same time, keep loyal and grateful customers? Smart classification of requests and subsequent Automation of key helpdesk processes will help us.

Classification is a manual or automatic process of determining the category of a request and then sorting the received requests into categories.

2. What is the category of the request?
The category of the request can be, for example:
•reason for the request (loss of credit card, authorization failure)
•product category or specific product (cars, shoes, or sneakers)
• business process of the company (applying for a mortgage, social advertising)
•specific part of the company's business (legal advice on inheritance issues) and so on.

For example, the classification system of the online store can include more than 14 top-tier categories (Company, Products, Account, Payment, Order, etc.) and 72 2nd-tier categories (Create Order, Cancel Order, Change Order, Request Refund, Cancel Payment, Shipment Address Change, etc.). Classifier for Zendesk application offers this kind of industry-approved set of categories to the online business (see Figure 1).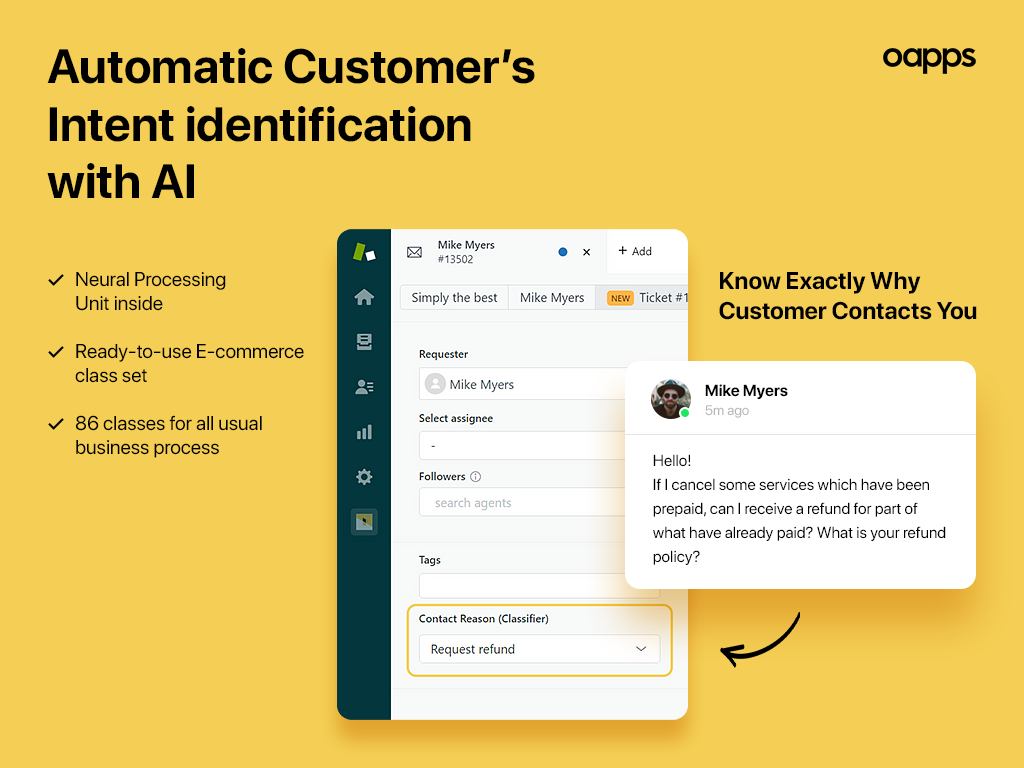 Also, the category set can have a matrix, two-dimensional form, when each request is classified, for example, simultaneously by two types - the Product and the reason for the request. This is often used by manufacturers, software developers, and service providers.

The number of dimensions in such a system can be many, but it should be remembered that an overcomplicated system of categories will rather reduce the effectiveness due to the blurring of the criteria for belonging to a particular category. Here, as nowhere else, the "golden mean" rule works.

3. Why do we need a classification at all?
If customer requests are correctly labeled (manually by an agent or by a software application) and sorted, you will be able to (see Figure 2):
•Timely identify problems with a specific product, service, or internal business process of the company
•Determine the actual workload of the company's agents and departments, identify possible imbalances, and eliminate them in time
•Create automatic routing of requests for execution according to criteria based on a specific category of requests or cumulative value of all tickets' tags (labels)
•Create a fully automatic call processing process based on macros and autoresponders, various combinations of chatbots, intelligent assistants, and automated help centers



The implementation of the last two opportunities usually leads to a dramatic increase in the productivity and efficiency of your customer service – about the same effect that the invention of the steam engine and railways had on improving the efficiency of transportation worldwide.

4. What does the classification system mean for the helpdesk system?
The typical classification system consists of:
•A formalized category system that describes the company's business processes as plausibly as possible (such as the above-mentioned online store categories' set)
•The algorithm for determining the category by the agent when registering a request (in the case of a manual classification process)
•Software service that uses artificial intelligence technologies (for example, machine learning and deep learning) for automatic classification

It is recommended to use software services because only they guarantee high quality of category recognition and the highest performance at the same time at an order of magnitude lower cost.

If your business is just starting up, we recommend that you immediately use the industry-standard set of categories as used by Classifier for the Zendesk application mentioned in Chapter 2.

If your business already has a history and you want to preserve the existing category system, then it is better to use the Classifier Pro for Zendesk, which will load existing tickets from your helpdesk and automatically train its neural networks on your categories.

5. What process can be automated if you have a ticket's classification (for example, in Zendesk Support helpdesk)?
Based on the smart classification process, the following operations can be automated in Zendesk Support:
•Autoroute a ticket to the appropriate group or specific employees of the 2nd or 3rd line of support, bypassing the 1st line team (time efficiency and productivity)
•Set up an urgency level to a customer request, which, in combination with the personal status of the customer, allows you to provide priority service for key customers (loyalty and customer satisfaction growth)
•Auto set up the type of request, for example, "Question" or "Task", which has a deadline
•Assign individual SLA policies, which will allow you to evaluate the support service more effectively at any level (company, department, team, employee)
•Set up the required values for custom request fields
•Send individual or group alerts to staff. For example, a certain type of request from a priority client may send an alert to the customer success manager (organic sales, business growth with CSAT improvement)
•Send data to external services and IT systems for integration mean, backup or security compliance
•Add or remove custom tags assigned to the request for multi-level BI (business intelligence) reporting
•Easily scale team assigned to the specific ticket (fast resolution for hard complex customer requests, for example, mortgage application process), etc.

The scope of automation depends on a particular helpdesk system, but if we are talking about market leaders (Zendesk, Salesforce CRM, Intercom…) – these systems have extensive tools and features for automation of any business process in any business area.

6. Benefits from the ticket's classification to the business
The classification is aimed at improving the quality of customer service while reducing the cost of this very service. In particular, with the classification system implemented (especially in the form of a software AI service), the business gets:
•At least 10% reduction in agents' labor costs (for determining the type of request, selecting the appropriate algorithm for working with it, and then routing it to the performer)
•When flow volume is 500 requests per day - real savings is $3120 per month (more calls mean more savings, here the dependence is almost exponential, see Figure 3)
•Immediate improvement of quality of customer service, reflected in faster (by 20% - 80%) resolution of customer issues, the growth of the total company level of customer satisfaction CSAT by 10% - 25%
•The ability to obtain adequate statistics, including information about the actual workload and effectiveness of agents in the context of individual products, company activities, or key customer problems
•A ready-made platform for further automation with bots, AI assistants, and Self-help Help Centers



7. Real customer stories
Anna Schultz, Customer Satisfaction Program Director, said:
«I believe that every business should set ambitious goals for rapid growth and global expansion. Our company set itself the goal of entering the markets for the sale of beauty products in 15 countries in the first year and more than 40 countries in the third year of operation.

But our business exists on the foundation of the trust and loyalty of our customers. Therefore, the quality of the support service is what we care about.

Initially, we contacted our clients exclusively by e-mail, while the functions of the helpdesk system were partly performed by our internal ERP system. It was the wrong choice - the resolution time for customer problems increased, on average, to 4-5 days instead of the 6 hours required. We are faced with a fast-growing volume of clients' requests in different languages and from many countries across the world. During the hot season, we receive more than 3000 client requests daily (more than 100000 monthly), so we desperately need the automatic classification for incoming conversations and deep automation for internal processes.

The result of the team's work is an ambitious project of an Omni-channel Intelligent Customer Support System based on products from Zendesk and partners. We created and connected our accounts on social media, Instagram, Facebook, integrated communication channels with clients on WhatsApp, Viber, and Telegram, to Zendesk Support. In addition, Classifier Pro for Zendesk (AI-based automatic system for classifying and routing customer requests) was implemented as a core job dispatcher. Help Centers created for clients in 7 languages allowed to optimize the workload in Call Centers. OAPPS's Explorer-based BI analytics solution made it possible to tune the support processes in real-time. Field managers were able to use an OAPPS-developed mobile app that was integrated with Zendesk Support and back-end systems.

Here are just a few metrics for the project: 40 times (from 100 to 2.5 hours) reduced the average Full Resolution Time (time to solve a client's problem); the Response Time has been reduced from the usual 2 hours to just 5 minutes, on average; CSAT improved immediately by 18% and continues to grow.

The created system flexibly covers all the needs of our rapidly growing global business.»